Sale!
REGIS CANTILEVER UMBRELLA
O'BRAVIA CANOPY, GRAPHITE POWDER COATED FRAME
This product is unavailable to purchase online. It can be purchased directly from Fielders store, or phone us on 1300WEBERQ or or 07 3385 0817
Regis is Shelta's important mid-size / mid-price Cantilever. It uniquely features side axis winder handle controlled tilt – to 75˚ to either side; as well as normal mast axis tilt. Regis has all other Shelta Cantilever attributes – winder handle opening and closing, 360˚ rotation around the mast (to give shade where needed), LED light mount and compatibility with Shelta's Large and Extra Large wheeled resin bases. Includes Polyester Protective Cover.
O'bravia™ Fabrics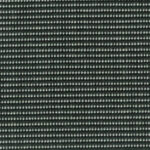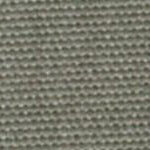 Specifications
REGIS

300

350

Shape

Dimensions

300

350

Mast Height

237

237

Clearance

194

194

Area (m2)

9.0

9.2

Mast

Oval 90 x 65mm

Opening

Winder System

Tilt

Side and Mast Axis
Other features include:
Mast Tilt Positions
360° umbrella rotation
Retractable LED light bracket on hub
Protective Waterproof Polyester Beige Cover
Additional information
| | |
| --- | --- |
| Size | 300cm Square, 350cm Octagonal |
| Color | Boulder Grey, Charcoal Ridge |
Installation
On Ground Base Plate or Ballast Block Frame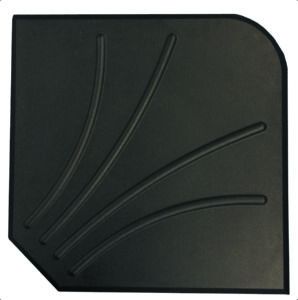 (both included). Six to eight ballast blocks
needed, recommended total weight 120kg.
Large Resin Base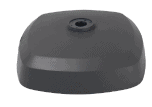 (optional purchase). Sand or Blue Metal
Ballast. 125kg ballasted.
Extra Large Wheeled Resin Base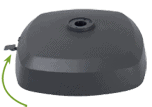 (optional purchase). Wheels extend or
retract to make moving easy. Sand or
Blue Metal ballast. 145kg ballasted.
Please note: Wind tunnel tests were conducted at Monash University for research and development purposes.  Shelta Australia does  not  guarantee that featured umbrellas will withstand specific wind speeds. To avoid damage to the frame always close the umbrella in windy weather or when unattended. The tilting feature should be used with care and the canopy should be returned to horizontal if the umbrella is buffeted by gusts of wind.
Fielders BBQ & Outdoors deliver to most postcodes within Australia but unfortunately, we cannot deliver to regional areas unless an agreement with the customer regarding delivery cost is decided.  We require a street address specified by you for delivery – unfortunately we cannot deliver to a P.O. Box.
To determine if we can deliver to your area you can enter your postcode into the shopping cart and receive a quote of the shipping charges.
CUSTOM SHIPPING QUOTE – In some instances, depending on the postcode and product, you may need to send a request through to receive a custom quote.  We do have many items that are of a large size and varying weights, so we may need to liaise with different shipping companies to confirm details before we can offer you a price for shipping. This may take up to 36hours for a response, as we endeavour to get the cheapest option for this service.  If you fall within this category, you can withdraw your request if you do not wish to go ahead with the order based on the shipping quote.